LAUREN PENINGTON
Lincoln Journal Star

Carrie Wiggins woke up to a missed phone call and devastating news Tuesday morning — a truck driver had fallen asleep behind the wheel and crashed into the Lazy-U Motel.
"The accident was heart- and spirit-shattering," said Wiggins, who purchased the motel, a landmark in tiny Broadwater, in June 2022 to renovate.
"We were really starting to see light at the end of the tunnel and excited to see some finalized improvements, then the accident kinda knocked the wind out of us," she said. "It's a major setback of redoing what we already did on a much bigger scale."
Morrill County Sheriff Milo Cardenas said the building was unoccupied at the time of the crash. The driver caused an unknown but large amount of damages to both the building's front office and utility poles.
Wiggins is no stranger to the restoration process. In 2004, she bought Broadwater's community hall and turned it into a bar and grill. Wiggins also led the campaign to save the town's school buildings — one has been converted into the Village Office and funds are being raised to restore the other.
"There are a handful of us locals who don't want to see the town turn into vacant lots," she said. "We believe the history and structures are worth saving for the next generation."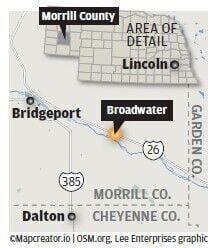 The Lazy-U Motel, which sits along U.S. 26 halfway between Scottsbluff and Ogallala, is a historical landmark and the most photographed building in Broadwater, a town of about 100 people.
It's one of the first buildings built in the original Broadwater business district, with property owners dating back to the town's establishment in 1909.
Notable owners of the historic motel include the Schull family, which opened the building as the Schull Motel, and the Brasch family, which acquired the business in 1964, renaming it the Lazy-U Motel.
"It's unclear when it closed as a motel," Wiggins said. "In 1993 it was acquired in a back tax sale — this is when the historic rainbow façade appeared — and a few people lived in it from time to time, until it became completely vacant."
Wiggins said she wanted to fix the motel's shell and make it usable again. While she didn't plan to operate it as a motel, she considered converting the space into rented storage units or storefronts.
Wiggins created an Instagram account (@thelazyu_journey_of_a_rainbow) to document the process. She had fixed the leaky roof, cleared out old appliances and carpeting, replaced the old doors and installed new windows.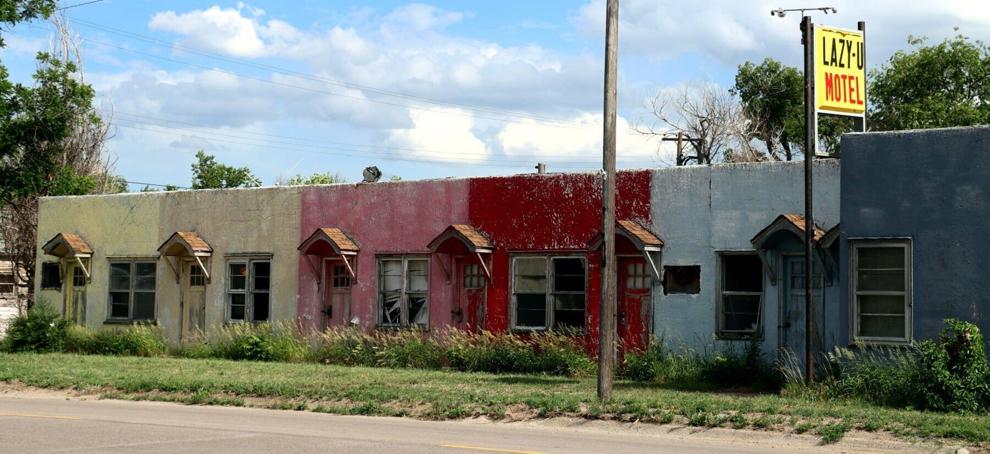 Even after setbacks with rotten wood flooring, collapsed water-damaged roofing and a crash taking out the front office, Wiggins remains determined to complete the renovation.
"Broadwater is not a ghost town," she said. "We work hard every day to keep it thriving. … We have a town celebration once a year, and are surrounded by neighborhood farmers and ranchers who help support the village economy."
Top Journal Star photos for January 2023